Heads up, step up, and glam up! Do you think while touring Italy, you might have missed a spot? Well, we assume you might have! This alluring place of oddly satisfying renaissance art is your dreamland to go to this holiday! Filled with tons of stunning architectures, natural sights, raw historical artworks that'll bring you back to the old days, and not to forget its main charm, i.e., the beautiful monuments scattered around the place; this gorgeous Italian city of Florence will make you say, "chi dorme non-piglia pesci" for its endless vibrant city vibes for tourism! We bet you'll think you're running out of time, and there's so much to watch and explore!
This famous city of love has so much here! Starting from cobblestone streets, local historical art, and small but cute cafés and coffee shops that serve `you with the most dynamic of the Italian breakfast and brunches, it's hard to accept someone might have actually missed this; a glorious place for their tour in Italy!

Things to See and Do in Florence:
Before starting off your journey, let's take a short tour of what this place has to offer you for the price you're going to pay for it:

What's waiting for you in Florence?
Considering the Renaissance architecture here as the mainstream reason for its fame for which millions of tourists just hop on this city every year, there are some short snippets of the place that we recommend you ought not to miss! Starting off from the beautiful handmade sculptures, and yes, hand-carved too, that are scattered around the place, beautiful monuments, 24/7 romantic vibes, scenic palazzos, stunning basilicas, and yes, the beautiful oil paintings of the Renaissance period that are still exhibited during art exhibitions every year, are going to make you think that there's no end to this place! There are many iconic places to stay in Florence for your travels that will be discussed here in the blog later.

Places to Visit in Florence:
Keeping your bucket list checked while touring this sprawling city of Italy, there are some hand-picked places mentioned below that we suggest you should visit here at every cost:

Uffizi Gallery:
Located near the Piazza Della Signoria, this dominant museum showcases gorgeous masterpieces of the Renaissance period and is itself a world-class masterpiece of Renaissance architecture. Visit the Da Vinci exhibition here or glance at every hair-raising masterpiece of the Botticelli! We claim it; this place is your one-stop to the best artworks of the town!

David of Michelangelo:
This gorgeous masterpiece of the Renaissance period belonging to the famous sculptor Michelangelo was created in the year 1501 and will definitely give you serious goosebumps through its magnificent detailing!

Cathedral of Santa Maria Del Fiore:
This remarkable cathedral of Florence is a must-visit place for its medieval architecture and beauty. Constructed in the year 1436, this place has an incredible brick red dome that can be seen from miles away! The views from the ceiling here are the real deal!

How to Get Around the City?

While getting around the city, we suggest you pick the right means of transportation for your tour here so that you can get the most out of this place! Read on below the few options we have sorted out for you:

Via Buses and Trams:
Touring a place as small as Florence, the best means of commute is taking the local buses or trams that will wander you to whichever place you wish to visit and is one of the fastest methods to cover up destinations in lesser durations.

Via Railways:
Railways are another method to travel here as the stops are mainly near famous tourism spots, trade centers, and exhibition sites of Florence! The tickets here are cheap, comfortable interior, and the travel bonuses here are quite much.

Best Hotels to Book for Your Trip:
Planning a stay here while touring? Giving you a rich essence of the best hotels in Florence, we might have made it super easy for you to pick your perfect spot from casual to luxury 5-star stays here in Florence; keep on reading for a quick insight!

Hotel Lungarno Florence: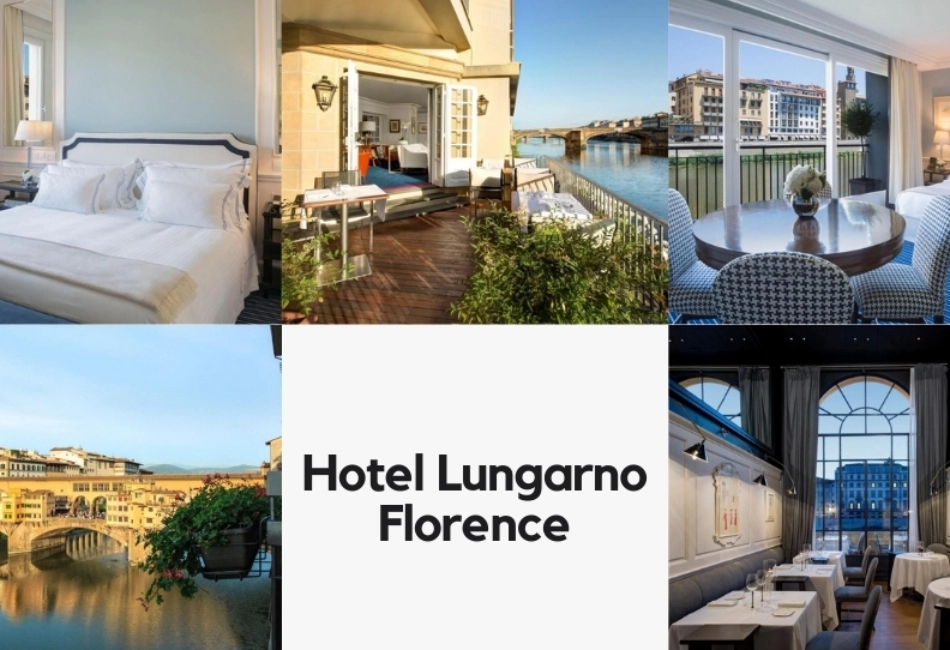 Located on the Arno River banks, this hotel is mainly famous for its exceptional views and a stunning Michelin-starred restaurant and Lungarno's Borgo San Jacopo restaurant that serves the best of Italy's traditional cuisines on its plate. The place offers its guests a hint of modern artwork and paintings and has finished its rooms with top-class Italian marble flooring.

Hotel Calimala Florence:
This stunning 4-star hotel possesses a modern touch to its Italian interiors and has great comfy rooms! The place is famous for its value in budget, featuring a splendid city view from the terrace, a marvelous restaurant, a fitness center, and a bar to let your creativity flow out from your thoughts to the perfect piece of a wine glass!

Glance Hotel Florence:
Situated in the heart of Florence, this hotel features the best multi-dimensional panoramic views of the gorgeous city and flaunts off its stunning rooftop swimming pool! The hotel offers its guests a breakfast buffet option that features the best Italian Ribollita and exquisite garlic bread that will make you say "squisito."

Belmond Florence:
This hotel in Florence is of great historical importance and dates back to the early 15th-century! Serving its guest's American breakfast daily, the hotel is famous for its lush exterior and minibar in every hotel room and suite. The place is located on a hilltop and features a stunning outdoor view of natural scenes of gorgeous Italy!

Hotel Berchielli Florence:
This exquisite yet modern Italian-styled hotel is located in the Lungarno Acciaiuoli and is famous for its glorious views of Ponte Vecchio and River Arno. The 4-star hotel serves its guests a buffet breakfast specializing in delivering the best of Italy and mouthwatering snacks at the American snack bar, which also features a bar cocktail facility for its guests.
To sum up, Florence is one of the best places to visit in Italy for its architecture, literature, museums, iconic statues, Italian-American breakfasts, and the overall vibe of the town! The place is definitely a value for money and you ought not to think twice about the place! Just pack your bags and travel to this wonderland of Italy!
Tags: